Madison Reed, the non-toxic, non-damaging option for hair color that I wrote about for 7×7 back in August, now has a new product for last minute root fixes called Root Touch Up ($30, available online-only). It's a lightweight powder compact that comes in eight shades from platinum blond to jet black. It brushes on dry, blends in with your color, and stays put until your next shampoo. Awesomely, it serves as a dry shampoo too—it's a fine, micro-milled powder so it absorbs oil, adds volume, and has a light, lovely fragrance that revives second- (or fifth-) day hair, so it's extra great for dirty hippies like myself.
See before and after below:
Like Madison Reed's other products, Root Touch Up is cruelty-free, and contains no parabens, titanium dioxide, oil-stripping sulfates, or gluten (who knew even hair products can contain gluten??).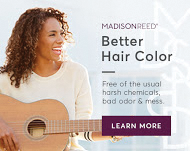 I love that Root Touch Up is a powder—I've tried the mascara-style touch ups and didn't like how they dried to a crispy texture. This one leaves your hair soft and natural and with more volume.